Download the LaTeX Thesis Template
LaTeX allows you to create beautifully typeset and consistent looking documents with only a little learning at the beginning. Using a template means using LaTeX is even easier as the formatting and layout is already set for you so you just need to supply the content.
I have made a LaTeX thesis template that you can use to write your own thesis with. It comes with a comprehensive help guide (that also uses the template) to get you started quickly. The template also provides a framework for organising and writing your work and a lot of subtle formatting at the finest level of detail that will produce the most beautiful looking thesis.
Since the template contains all the formatting commands, the framework and layout structure, you can just concentrate on the writing.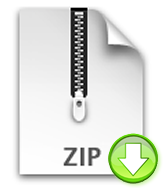 Download the LaTeX Thesis Template to write your own thesis with.
Read the comprehensive Help Guide to the LaTeX template (included in the zip file). The Help Guide uses the LaTeX Thesis Template itself so you can see what it actually looks like!
See how easy it is to produce stunning documents in LaTeX on a Mac system.
The LaTeX Thesis Template was made when I wrote my own thesis, it is a heavily modified version of the ECS thesis template by Steve Gunn (original available here) from the University of Southampton.
To use the thesis template, simply extract the contents of the Zip file. The folder created contains the skeleton structure you will need as you begin writing your thesis, including the style files and extra LaTeX packages. It helps you keep organised by putting all the files you will generate in their correct places.
Thesis Template Help
There is a lot of documentation available about the LaTeX Thesis Template, including the Help file, Issues list and FAQ. The files inside the LaTeX Thesis Template are also generously commented so you should be able to quickly get going with your thesis.
Finally, there is a lot of written documentation about the LaTeX typesetting system in general that you can search, browse and read through on the internet.