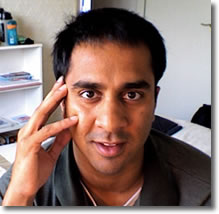 Hello, I'm Sunil Patel, welcome to my personal site. I've studied physics for far too long, love gardening, have a tendency to bake during winter and have a soft spot for cats – although I don't have any.
I have an IT job that keeps me very busy with learning, testing and implementing the latest cool technologies I can get my hands on as well as fixing things that decide to break.
Academic History
Originally from Leeds, I went south to study physics at Imperial College, London (1999-2003) and emerged with a 2.1 degree. The MSci+YiE course involved spending my third year at a European University on an ERASMUS Student Exchange programme.
So in 2002 I headed to Italy, to the Università degli studi di Trento in Trentino Alto-Adige (or Süd Tirol; it depends who you ask). This was in the north east Italian Alps, a region of stunning natural beauty and abundant geography. It was certainly an eye-opener, I learned how to cook, became fluent in the Italian and developed my love for swimming and hill/mountain walking there.
It was also in Italy, at the University where I met my future PhD supervisor, Dr. Tim Freegarde. After finishing my fourth year back at Imperial, I accepted a PhD post at the University of Southampton to study the "Optical Manipulation of Atoms and Molecules using Coherent Techniques" under the supervision of Dr. Tim.
At Southampton, I became heavily involved in undergraduate demonstrating and Schools Outreach educational programmes and communication of Science projects through activities such as Holography Workshops and the Light Express Roadshow. I also found my creative side and did many design, web and print projects.
I completed and submitted my thesis in the summer of 2008 and you will find my thesis on this site as well as the LaTeX Thesis Template that I based it on and made available separately for you to use if you come to write your thesis.
Currently…
I work as the IT nerve centre for a company in Cambridge. I spend my days troubleshooting and fixing anything with a plug or battery in it as well as learning, playing with and testing new technology. I also get to command two underlings who work with me as part of the team.
The Garden
I have a passion for gardening that came from my grandfather (it skipped a generation) and spend the long summer days toiling away outside in the garden in the vain hope that someday I will finish all the work that needs to be done and will finally be able to sit down on the patio and simply enjoy it.